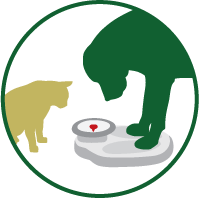 What is a Pet Health Technology Ecosystem (PHTE)?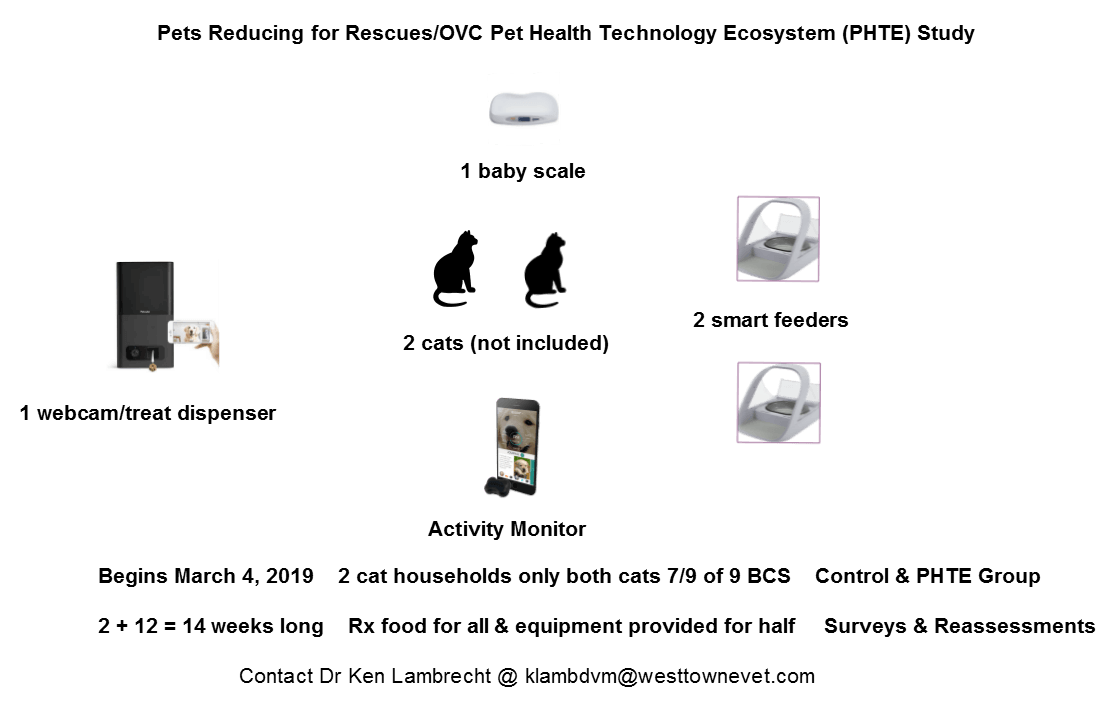 Abstract for Bug's Gym Pilot Study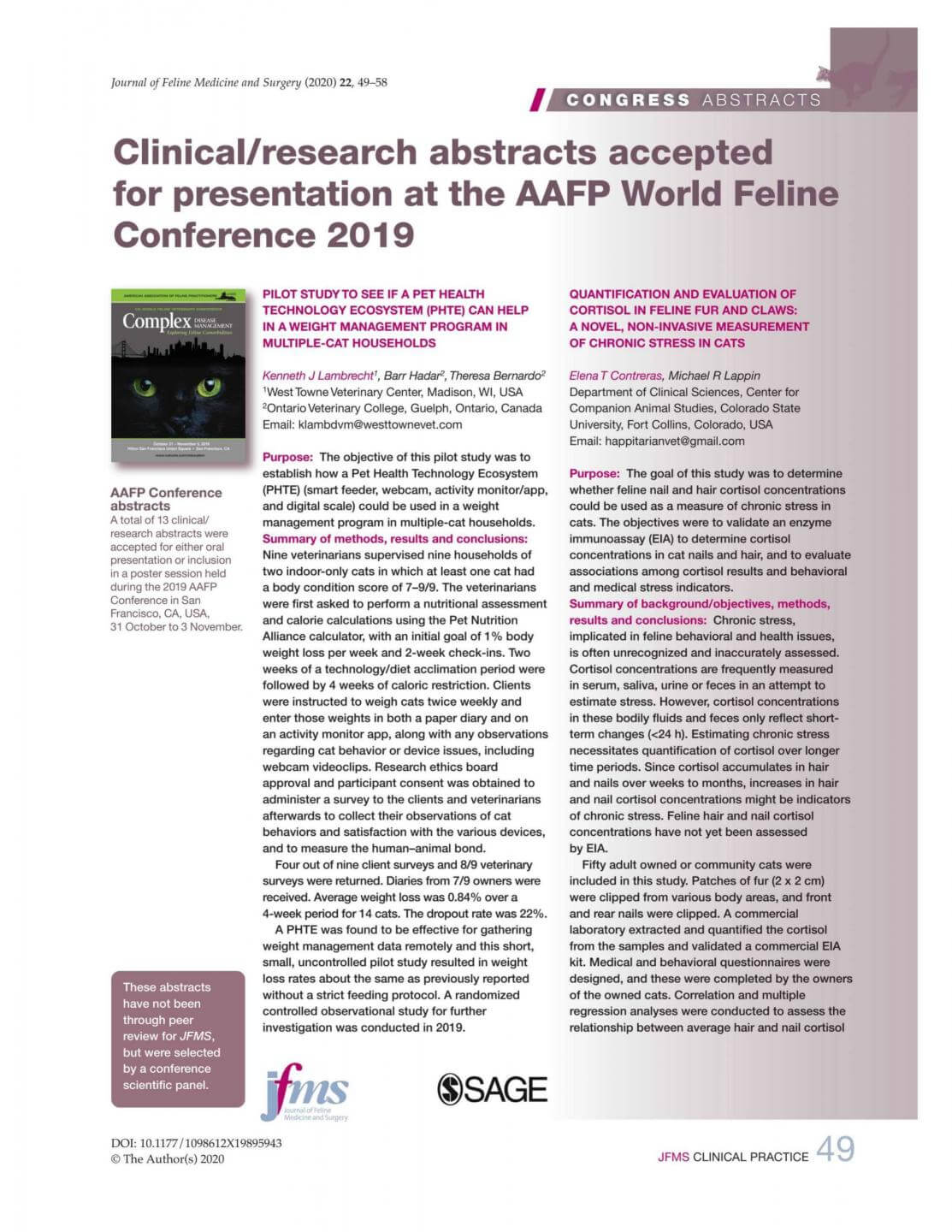 9-Step Final Criteria for PRFR/OVC PHTE 2019 Study
1) 2 Cat households only each 1 to 12 years old both ideally BCS 7-9/9 will get priority (if we are short on households we may have to use ones with just one overweight cat but hopefully not)
2) Owner compliant in embarking on a weight management program and technology friendly
3) Each veterinarian will supervise one Pet Health Technology Ecosystem (PHTE) and one control group
4) PHTE = 2 Sure feed Connect feeders, baby scale, Petcube bites & Fitbark activity monitor
5) Hills Metabolic dry food provided for all cats for 14 weeks with 2 week transition period (to tech & food) starting between March 4th and March 15th, 2019 in the US and March 4th and March 31st, 2019 in Canada. (Start determined by when 5 step setup completed by client)
6) 12 week caloric restriction period using PNA calculator (0.8 x RER) and 10% calorie corrections if less than 0.5% loss or greater than 2.0%
7) Baseline bloodwork recommended but left to Dr discretion before study start of March 4th, 2019
8) 4 week reassessments at clinic, every 2 weeks by tele-health
9) At end of 12 week study non PHTE household can use tech package for 12 weeks free and BV WMP will continue to monitor data and provide support for owners through their veterinarians
5-Step Setup For Clients
Click here for a downloadable version.
______STEP ONE – PetCube bites petcam/treat feeder Set up per manufacturer's instructions and load app. NOTE: Very straightforward setup, just make sure it is able to offer full view of both of your cat's existing feeding stations.
If you use the treat flinging feature be sure to only feed 10% of daily caloric needs per cat and use only Hills Metabolic dry food and making sure each cat gets equal amounts.
You will have an option on app to set up/pay for video recording subscription to allow viewing up to 30 days later for $3.95/mo. That is not funded for study but these clips can be valuable to observe cat feeding behaviors and are fun to watch so viewing, saving & sharing is encouraged.
DEVICE SUPPORT: support_team@petcube.com
_____STEP TWO – Surefeed Microchip Pet Feeder Connect and Sure Petcare Hub Set up per manufacturer's instructions. Be sure and place next to existing bowl and gradually introduce food or a favorite toy or even catnip near or around it to get your cat used to it. A microchip your cat already has or included collar tag is necessary to operate feeder and restrict cat access to correct feeder.
NOTE: All smart feeders make some noise when opening or delivering food that the cats need to be acclimated to. Be sure and read this part of the setup in detail so your cats are not alarmed at any time. In testing in Bug's Cat Gym slow and steady works best.
The Surefeed Microchip Pet Feeder Connect (not available in the US until June) is an amazing device that with its built-in scale tell you exactly how much to feed. Once the hub is connected it will allow you to monitor how much food was consumed and when. As it is microchip activated once programmed only that cat is allowed to eat from the feeder. If your pet does not have a microchip a microchip tag is included with every feeder.
https://www.surepetcare.com/en-us/pet-feeder/microchip-pet-feeder-connect
If you have ANY problems please call on your veterinary team (or us if they are unable to resolve)
DEVICE SUPPORT c.fuller@surepetcare.com
______STEP THREE FitBark Activity Monitor Set up per manufacturer's instructions. Please don't be offended it hasn't been marketed for cats, yet. This is an amazing data collecting device which has been shown to be accurate and has been used at over 45 research and veterinary teaching institutions. This is one of its debuts in home use for cats. Bug has worn one for years now and loves it ? https://www.fitbark.com/store/fitbark2/
DEVICE SUPPORT Mobile app support
_____STEP FOUR – Baby Scale Set up in a comfortable spot where your cats usually sleep. Place favorite blanket on scale. Sprinkle catnip, favorite treat or cheese in a can on or near the scale coaxing them to crawl on.
DEVICE SUPPORT: Your veterinarian
_____STEP FIVE – Diaries Record all food & treat amounts, your cat's behavior (with special attention to reactions to devices, energy level, happiness, appetite, and begging), and any thoughts on the device (setup, hardware, user interface, app, etc), and other comments in the FitBark or Surepet diary and paper diary at least twice weekly. Food & treat amounts daily.
This information will be vital to helping us ensure safe and effective weight loss in your cats. Your veterinarian and the OVC/PRFR research team will be available for support to resolve any frustration you or your cats' may experience!
Have fun and send us any interesting PetCube videos!
Sincerely,
The PRFR & OVC Study Team