Let us enrich your cat's stay while you're away!
We proudly offer several boarding options in our newly-remodeled cat loft! Our goal is to keep your cat as happy and healthy as possible during their stay with us, and this includes medical care and enrichment while they're here with us. Call us at 608-828-3737 to schedule your cat's boarding. We are happy to answer any questions about boarding options, protocols, and prices with you over the phone.
Your cat will love their stay in one of our spacious, cozy cat condos. Allow your cat to relax in its own private, multi-level condominium. Our cat condos feature large windows for your cat to survey its surroundings and direct access to Bug's Private Gym for exercise and play.
We also offer larger rooms for play! Your cat can hang out in one of nine private cat rooms while they stay with us. Each of our five smaller rooms can house up to two cats from the same household, and our three larger rooms can accommodate multiple cats from the same house hold. You have your choice of private cat rooms with window access, allowing your cat to see other cats, or non-window access, if the presence of unfamiliar cats is too stressful for your kitty. Private cat rooms are all supplied with a cat tree, bed, food, and water dishes, as well as as 1 litter box per cat. 
We want your cat to stay up-to-date on their medical care with us, which is why we offer medical boarding. For cats requiring daily medications or treatments during their stay, our technicians will happily administer all medications and treatments your cat requires. Our veterinarians also routinely check on our boarding cats and can address any new medical issues if the need arises.
Requirements for cat boarding include: up to date Rabies and FVRCP vaccines and a negative fecal test within the past 6 months. Cats with fleas present at drop off will not be permitted to stay. Cats not on a monthly flea and tick preventative will be given topical Revolution Plus at drop off to prevent the risk of parasite transmission in the boarding area. Geriatric or medical boarders must be cleared by our veterinarians prior to boarding. We are happy to discuss any of our protocols prior to boarding. Potential boarders are also welcome to come view the boarding area.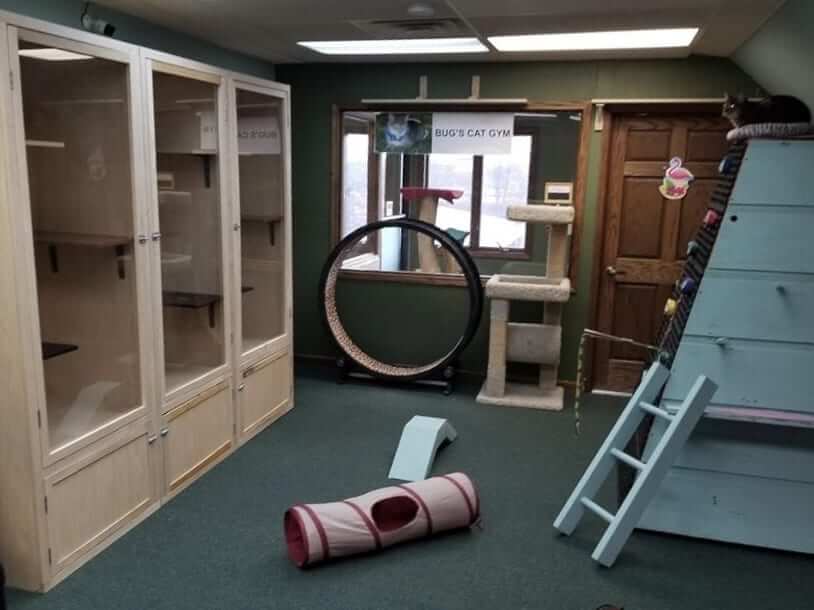 Cat Gyms!
WTVC offers two cat gyms, to entertain and exercise our feline boarders. Bug's Main Gym has been recently renovated, and now offers:
Cat trees and climbing posts
Cat shelves for kitties that like to climb or observe their surroundings from a high vantage point
A large picture window to let the sunshine in and allow your cat to enjoy the view from our second story
A brand new cat exercise wheel
Bug's Private Gym is also available for our Cat Condo boarders. This smaller gym offers cat shelves, toys, and an all-glass wall that allows our cat athletes to survey their surroundings.